Lookup Arrests, Most Wanted, and Police Records in Huntington Beach, CA. Results:: Arrest Records, Jail Roster Info, Warrants, Mugshot, Dates, Charges, Dispositions, Warrant Number, Bond Amount, Race, DOB, Eyes, Height, Weight, Sex, Age, Hair
Huntington Beach Police Station Address: 2000 Main St, Huntington Beach, CA 92648, United States
The Huntington Beach Police Department is comprised of 218 sworn police officers. Their careers range from Patrol Officers, Detectives, Narcotic Officers, Directed Enforcement Team, Neighborhood Enhancement Team, SWAT, Beach Detail and Air Support Unit. There are 134 civilian positions in the police department. Some of those are Parking Control Officers, Records Clerks, Communication Operators, Crime Scene Investigators and Detention Officers. These individuals are responsible for protecting over 200,000 residents and 11 million visitors to Huntington Beach every year. All 32 square miles of the city and 8.5 miles of beaches are patrolled by the police department using cars, quads, motorcycles, and helicopters. The Huntington Beach Police Department employees are committed to serving the community with honor.
Huntington Beach Police Department6 days ago
City of Huntington Beach, CA - PD - Citizens Academy

The Huntington Beach Police Department is proud to offer the Citizens Academy. This program is designed to increase the understanding of the Police Department. The academy is offered in the spring and fall each year, and runs 11 consecutive Wednesday evenings from 6 pm to 9 pm.
6 days ago @Kimo_Gandall Yes the new class starts March 7 and goes until May 23!
2 weeks ago Don't forget...new front desk hours start tomorrow! Remember, there are a number of things you can report online. Just check out our website to see if we can make it easier for you. 👍🏼 Otherwise give us a call and we will be there! Have a safe and happy weekend! https://t.co/D3gAQyvoJO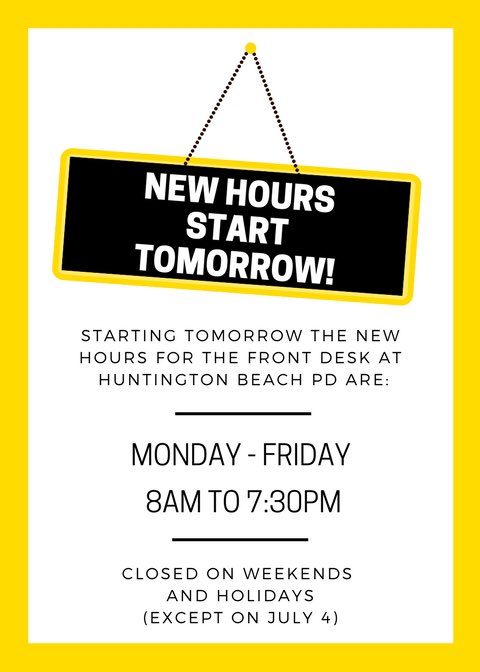 2 weeks ago Today is #NationalHumanTraffickingAwarenessDay. Educate yourself about this topic to be able to know when something doesn't seem right. This is one of the largest growing criminal enterprises in the world. The Human Trafficking Hotline is 888-373-7888. https://t.co/2TfcneLy25